One of the brands that I've been introduced to recently, is now one of my favourites:
A-England
by the creative Adina. There are two collections available at present, and Ascalon is from The Legends. This collection is based on the legend of St George. Ascalon was the name of the sword of St George.
This is a stunning holographic polish. On initial sight it looks to be a simple grey, but when you look closer, you can see a beautiful lilac tint to it. This is my first proper holo polish, and I am simply in love with it! This is an amazing colour, so I'm going to let the pictures do the talking.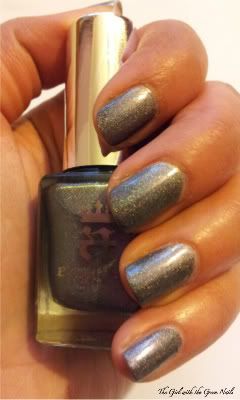 Without flash
The formula is a great consistency and the brush applies the polish evenly; there are no problems with brush strokes with this polish.
Without flash
With flash
You can see the beautiful holo particles in the bottle, and they do translate to the nail!
With flash
I've saved the best for last, the next is my favourite photograph!!
I hope the photographs portray Ascalon in it's glory. I couldn't decide which of The Legends to order first, so as per Adina's suggestion I've started from A to Z!
If you haven't tried any A-England polishes I definitely recommend you give them a whirl. You won't be disappointed!
A-England nail polishes retail at £9 and delivery is free.
Have you tried Ascalon? What do you think of it?
x