Today I have a post on one of my favourite brands, A-England. Galahad was actually the first polish I tried from this range, and it's one I love. This turquoise-blue creme shade is heavenly. It is part of The Mythicals collection.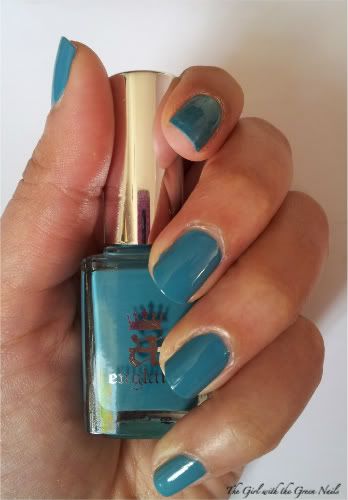 This is a creme polish with a good coverage. I used two coats for these swatches. I've not been a fan of creme polishes, but I think because of the colour, this won me round.
With flash
Galahad is a striking colour in its own right. It's one of the colours that makes me feel happy when I look at my nails :) As much as I love this colour alone though, I wanted to try out a combination with it. I couldn't decide between Nubar Black Polka Dots or Nubar White Polka Dots, so in the end I went for both!
Without flash
The Nubar Polka Dots polishes consist of an array of 'dots' in a clear base. The coverage of the Black Polka Dots is quite light as you can see, and this is with two coats of it! It was quite difficult to get any of the larger dots out of the bottle and onto my nail.
Without flash
With flash
I added one coat of the Nubar White Polka Dots. It's very easy to see which has a better coverage/formula! With the white one, there were a large number of the larger dots on every brush stroke, to the extent that it overides the black polka dots. They both had a slight glitter in them, though it's more noticeable with the black.
Galahad was purchased direct from
A-England
.
Nubar Black Polka Dots & Nubar White Polka Dots were purchased from
BeautyBay.com
.
What do you think of Galahad? Do you like the triple combo?
x