This is a brand created by celebrity nail technician Andrea Fulerton and is sold exclusively at Superdrug. I came across it quite randomly when I stumbled upon a blog post about the famous Andrea Fulerton Nail Boutique Trio Petrol in the Water. That in itself is an amazing colour which I'll blog about at a later date. This is the first single colour I've bought from the range and I have to say I'm impressed.
This turquoise shade has delightful shimmer particles in turquoise and pink. The above photo is without flash and it looks amazing with the extra light of the flash as well. All the photos are taken with two coats, three would give fuller coverage. As this colour is fairly opaque, you could easily layer one coat on top of a different colour to add a wash of turquoise shimmer. I tried it over Mavala's Electric Green, and it looked pretty good :)
I like the brush for application, however I did find that this shade was not as fast-drying as the trio shades I've tried previously, but definitely quicker than my complete Nails Inc collection!!

This colour is probably one of my favourites. I love blues and purples in almost any shade. And as soon as I saw this colour in store I just had to buy it!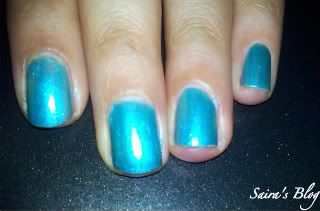 At this time of year it is easier to wear shimmery colours for some people. I would say if you're wearing a LBD to the office Christmas party, dress it up with this colour on your nails, and matching accessories. It adds elegance and style, and would really set off against the black.
Andrea Fulerton Nail Boutique (AFNB) colours are available from
Superdrug Online
and Superdrug stores. The single colours usually retail for £4.99 but certain metallic colours are on offer in-store for £3.99. You have no excuse not to get this!
Have you tried any Andrea Fulerton Nail Boutique colours? What do you think?
x