Mavala is a brand I've heard of and seen in stores; I had just never bought from it before. On a trip to Bluewater (yes, it's those fateful words again), I accompanied my sister to John Lewis. While she was making an enquiry at one of the cosmetics counters, I innocently wandered over to the nail polish section. I saw two ladies pouring over one of the sections and lo and behold, it was Mavala.
I wanted to go for something totally different that day, and I did. This colour is out of my safety zone! I wear green, but almost always darker shades. I own a bright green which I've never worn. This one however, just caught my eye. It's a bright pearlesent green, a bit bright for everyday wear maybe. It is a pretty bold unusual colour, so not for the faint-hearted! My niece was very unimpressed when she saw the bottle, but now the colour has grown on her too, and *I think* she actually likes it :o I was wearing this colour recently and was complimented by a girl at the Benefit counter (any colour which gets complimented is usually a keeper).
This shade is one which I cannot really describe. It has a slight shimmer to it at certain angles, and at others the pearl effect really comes through.
With Flash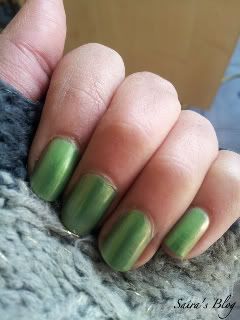 Without Flash (in natural daylight)
Overall, it's a good polish. It has definitely got me more interested in the Mavala brand and their products, and I have no doubt that it is the first of
many
a few purchases from them. This is definitely a thin two-coater, though three would not go amiss. It dries fairly rapidly (Orly and AFNB style) which is always a huge positive for me. The bottle is small, so it should be easier to actually finish a bottle (and it takes up less space in my limited storage area).
Mavala Mini Polishes retail at £4.10 for 5ml.
Mavala is available from John Lewis and Debenhams stores. It is available from a number of online retailers including
John Lewis
,
Debenhams
,
Lookfantastic
and
Feelunique
.