What better way to start than with a beautiful green polish? My current favourite green is Boots 17 Magnetized Nail Polish in Green. This is one of four colours offered by 17 in the Magnetized range; the others are grey, blue and purple.
This is a fairly simple way to get your nails looking good without having to put in the work usually needed for nail art. The best method is to do one nail at a time so the polish doesn't dry in between (and this is a fairly quick drying polish). I read this tip prior to attempting mine for the first time, and thought I'd try the shortcut of painting two nails, then hovering the magnet over one and then the other. It doesn't work.
The best effect is that achieved by literally hovering the magnet over as soon as you've painted your nail. The best thing is to sit where your hand is stable, with the polish on a solid flat surface and the lid next to it, so that everything is easily and quickly accessible. The lid has the magnet built-in. It also has a little rest to put on your finger at the base of your nail, so you can rest it on that to ease 'hovering' it about your nail. At this point I should add that the lid with the magnet is totally separate to the 'normal' lid of the polish that has the brush built-in, and it just sits on top of the usual nail polish style bottle.
I did find the first couple of times that I held the lid/magnet at too much of an angle, and it touched the polish and spoilt it. I personally find it easier to put the lid rest on my finger, then hold the lid and finger up horizontally at eye level so that I can easily make sure the lid will not touch my polish.
I had to balance the lid with the one hand to take the photo with the other, but it shows how I would hold my finger at eye level to make sure there is no physical contact between the lid and my nail.
The finished effect is stunning. I love the way the light catches on this polish. I also love the grey version of this polish, it's so versatile and looks good worn at work or when out.
With flash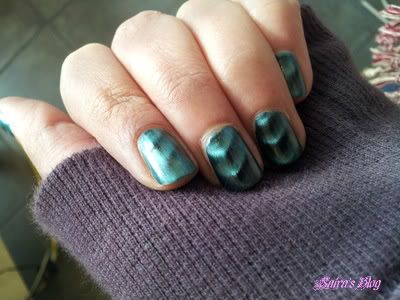 Without flash in natural daylight
The Boots 17 Magnetized Nail Polish RRP is £5.99. The complete 17 range is currently on offer at 3 products for the price of 2.
Have you tried any magnetised polishes? What do you think?
x