Most of the nail polishes I own are by Nails Inc but I also own quite a few Rimmel ones which I love, plus a few other brands. I had heard numerous positive comments about other brands such as OPI, Zoya and Orly, but until this year had yet to try any of them. However, the sales on BrandAlley UK changed that fairly rapidly - so thank you BrandAlley! On a whim, I bought two Orly duos in one of their sales. The second time I re-pucharsed from them when Orly re-appeared on the site, but this time without hesitation.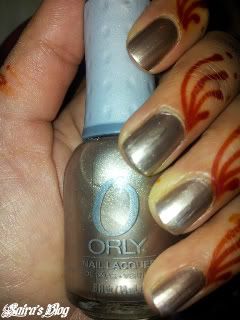 Orly Buried Treasure
I cannot say how impressed I am with all the Orly polishes I have tried so far. The 'Gripper' cap is so comfortable to hold, and the brush applies so smoothly. I also find that Orly polishes are very quick to become 'touch-dry', totally unlike the Nails Inc. polishes. If you're in a rush like I usually am, then remember that touch-dry is
not
solid! The number of times I've become complacent and then looked down to see a little mark in my polish because I've started doing other stuff without my polish drying fully.
This is one of a mixed trio from my most recent purchase. The other colours were Platinum and Petit Four (I'll swatch those another time as Platinum is beautiful). This is a beautiful shimmering pale gold colour. It's a dazzling colour without being too much. I'm happy to wear most colour polishes daily, and I personally think this is a shade with understated elegance.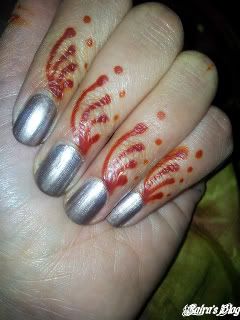 Buried Treasure was my colour of choice on Eid (hence the mehndi/henna). It's great how it's a neutral colour so it goes with any outfit.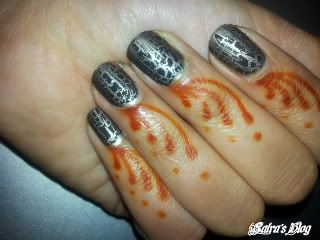 Orly Buried Treasure with Barry M Black Crackle
The next day I wanted a bit of a change but without totally re-doing my nails, so a quick coat of Barry M black crackle makes it look a little different and jazzes it up.
Orly nail polishes are available from Boots at £5.00 for 5ml.
They are also sometimes available from BrandAlley UK with an approximate cost of £9.00 for two 18ml polishes (excluding P&P).
Have you tried Orly nail polishes? What do you think of them?
x