I was slightly delayed with this follow up due to my memory failing me and not grouping my two Lush transactions together to begin with. I am a bubble bar fanatic, I love them. If you've never tried a Lush bubble bar, you haven't lived!! They are quite simply that good. My favourite has got to be The Comforter, it smells like Ribena to me and I love that as it's definitely got good associations with my childhood!
I made the most of the sales and stocked up on Snow Fairy items. I absolutely love this scent. It's a sweet bubblegum scent that just makes me feel happy. Some may find it too sweet, but I think it's gorgeous. So I have one bottle of shower gel and three Magic Wand bubble bars, which have the Snow Fairy scent. The additional bubble bars are Christmas Eve (blue with yellow moon), Three Gold Rings (gold and white swirl), Candy Cane (pink and white swirl) and Superstar (in the wrapper, but yellow & orange from memory). Finally I also bought Dirty Toothy Tabs, Australian Igloo Scrub and Candy Cane soap. All I can say is that I'm very much looking forward to trying out all of these!!
On my visit to Harrods with a friend, I stumbled across this Clarins eyeshadow palette (Neo Pastels) which I just had to have. For six colours plus a liner, it was an absolute bargain at £13.50!! I also managed to pick up a couple of inserts for my Filofax at a great price.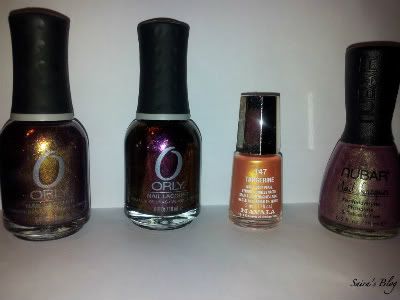 There had to be nail polish involved in all this buying, or you would think I was an imposter!! From left to right: Orly Rock The World, Orly Rococo-A-Go-Go, Mavala Tangerine and Nubar Dreamer's Island. These were all purchased online from
BeautyBay.com
. I hadn't tried Nubar before, and had been lusting after the Orly ones for a long time, so this was definitely an exciting purchase for me!! Rock The World is definitely my favourite colour at the moment.
Have you tried any of these before? What did you get in your Post-Christmas/Janary sales?
x